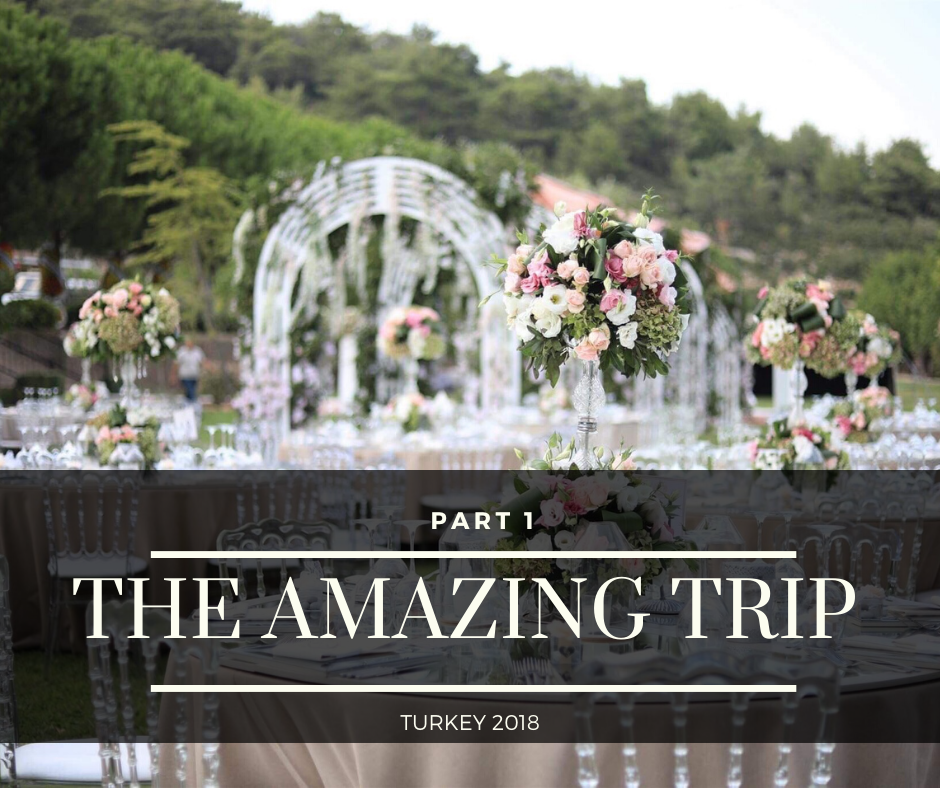 The amazing trip to Turkey – Part 1
This post has been such a long time coming. My mind has been on other things and I will cover those topics in a separate post one day. In the following post I'm going to write about everything that went on during my vacation in Turkey. That means the days prepping for the trip, the absolutely amazing wedding that I had the honor to participate in, the cities we discovered that are not so "touristy" and of course a lot of pictures! Actually there's so much to cover, I'm going to make two posts: first one about the wedding and second one about the vacation.
The Preparation
As I've been writing in turning demotivation into motivation sequences, I actually started to prepare myself for the trip from the beginning of August and the preparations lasted pretty much until the last days before we took off to Turkey.
The most important and scheduled preparation was the dress making. I had a dress specially made by one of the best Estonian designer in my eyes. Actually, at first I had a different dress in mind, but since that would have been so much more hassle I decided to consider other options. I looked around and found a dress by Riina Põldroos in Estonian designers pop-up, it was a knee-length ashy violet color silk dress. It was so pretty and so close to what I wanted. So I went to Embassy of Fashion where the designer makes her dresses.
I tried on a lot of different dresses and then ended up ordering a dress that was combined of two tresses that I liked the most. The dress ended up being a little longer in length that the one I saw and liked before, but otherwise the same cut and sunny yellow color. It felt like such a dream. My sunny silky dress.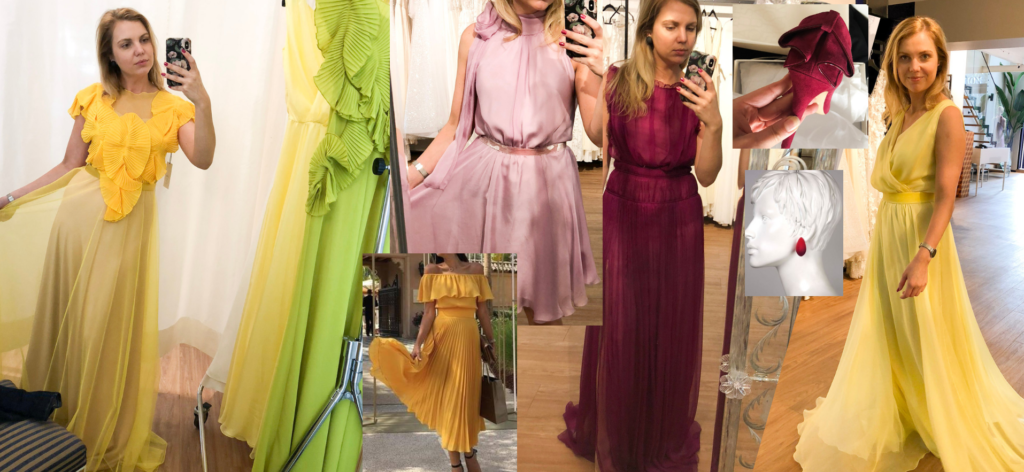 Finding the inspiration
After the right dress was found there was the question about the perfect accessories and the shoes. At first, I thought about wearing something from the shoes I already owned, but since the ones that would have matched were nude or black, but they would have looked a bit dull and that was most certainly not the look I was going for. I found the perfect maroon color Högl shoes with a ribbon on the back and I decided to pair them with matching color Tanel Veenre megaberries earrings.
Oh, I think I didn't really mention it before. My inspiration for the look came from the fact that my boyfriend decided that he is going to wear a light gray suit. I do have a never-before worn super gorgeous silver evening gown I would have worn, if he had decided to wear a black suit. But since he was so fixated on the gray I decided to get myself a new dress. My inspiration was no other than Amal and George Clooney at the Royal Wedding. They we're the showstoppers! Amal is just such an inspiration on her own wherever she goes and whatever she does. She's just so amazing! And with George they really are the picture perfect couple. Not gonna talk about George in more details – we all love him.
Since the day of the wedding was a little anniversary for me and my boyfriend. Then on the wedding day, after we had breakfast and came back to our room I surprised him with a little present – a pale golden tie and pocket square that matched perfectly with my dress.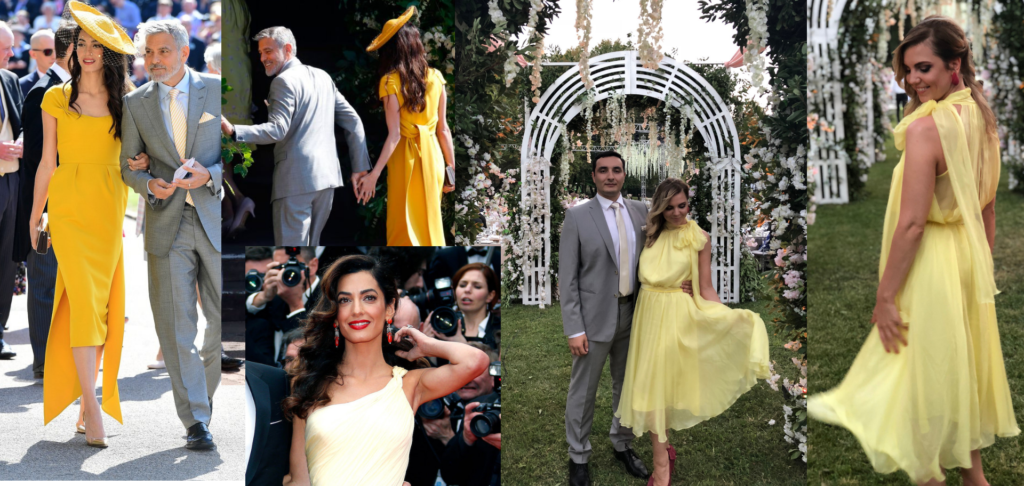 Izmir
We landed in Izmir, Turkey the day before the wedding. Since there's no direct flights we flew through Munich. We had a 4-hour layover over there. Which in a way was okay, but the airport was kinda boring. Thankfully I had great companion, so time flew by. The flights were awful, we were literally surrounded by screaming babies and weird smells. I really don't have anything against babies I just don't want them screaming on flights or anywhere around me. But all went well and we laded happily in Izmir. We stayed at Swissotel Efes during the wedding weekend. The hotel was super! Breakfast buffet was one of the best I've had in Turkey, nothing like they offer at the resort hotels. Five stars was like an international five starts.
But since my time in Izmir was mostly spent prepping for the wedding and attending at the wedding then I really couldn't enjoy the huge city with the population of 4 mln! It left me feeling that I most definitely want go back and see what that part of Turkey has to offer.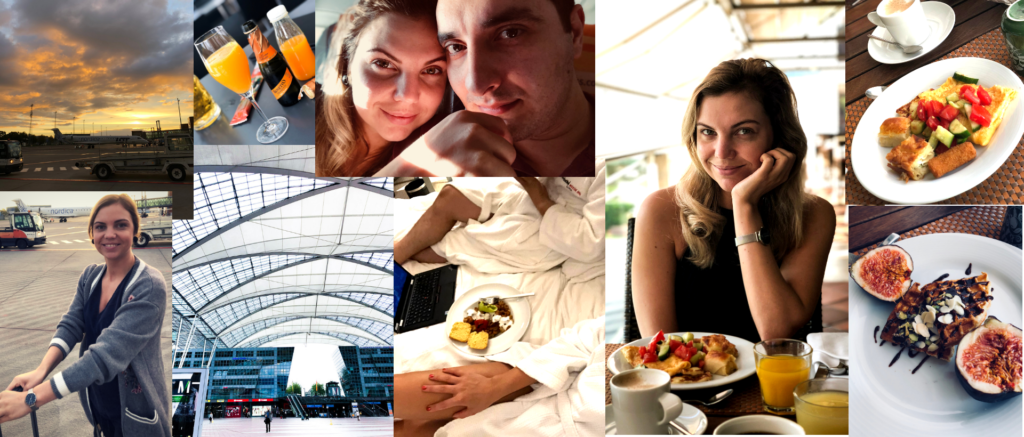 The wedding
And then came the day of the wedding. It really did feel like attending to a royal wedding in a sense that I don't believe I'm ever going to attend in a wedding that big and be that close to the bride as I was at that one. The wedding had about 800+ guests. It took place on a private property between mountains. But let's start from the beginning of the day.
In the morning we had our hair and make up done at the hotel and after that we had a little photoshoot at the bride's suite. There was a drone filming and two or even three photographers.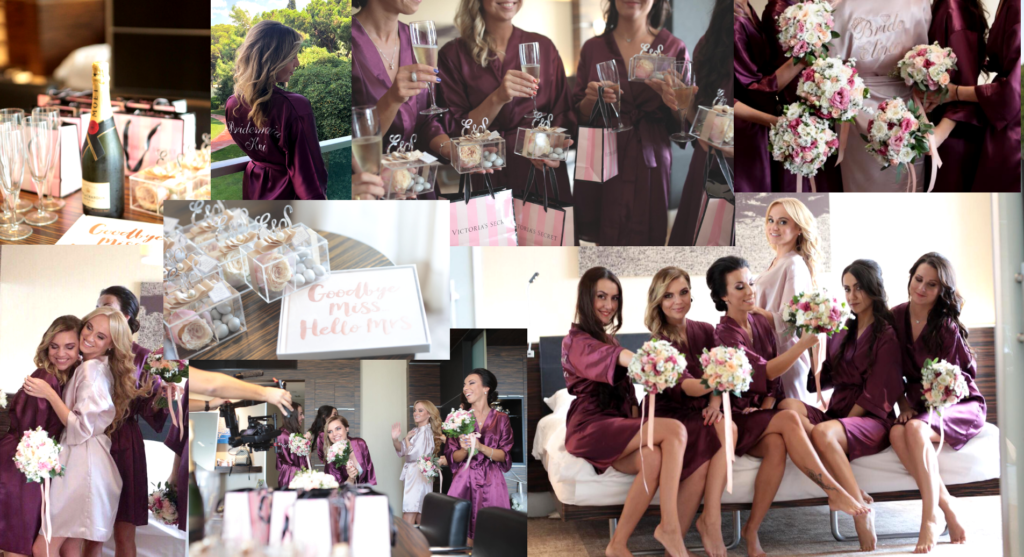 A lot of positive emotions and laughter. Such warm memories.. Just looking at those pictures takes me back to that moment. Love LOVE!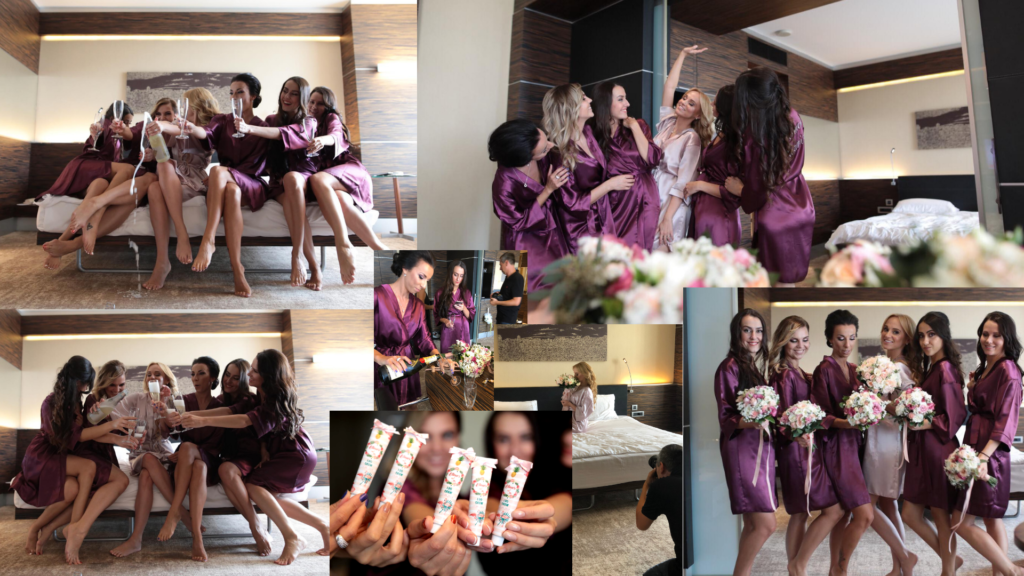 After the photoshoot we all went to get dressed and do our last touch ups. Then we had our rides to the wedding place, but just before that we had another little photoshoot outside the hotel.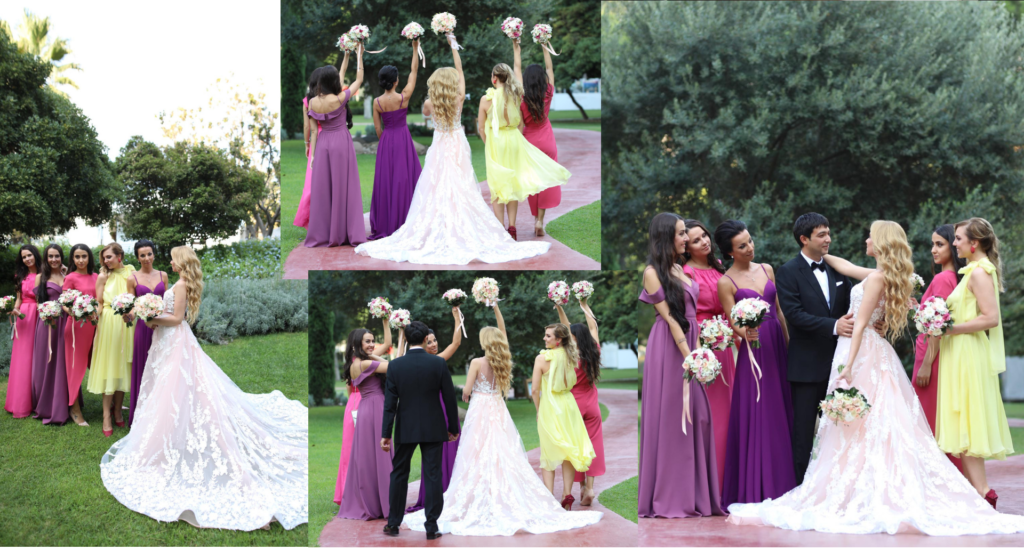 The drive to the wedding location was about 40 minutes. And when we arrived.. oh my God! It was just like scene from a Hollywood movie. The set up was simply GORGEOUS! With so many flowers and details and everything so well thought through. The colors were like a combination of heaven.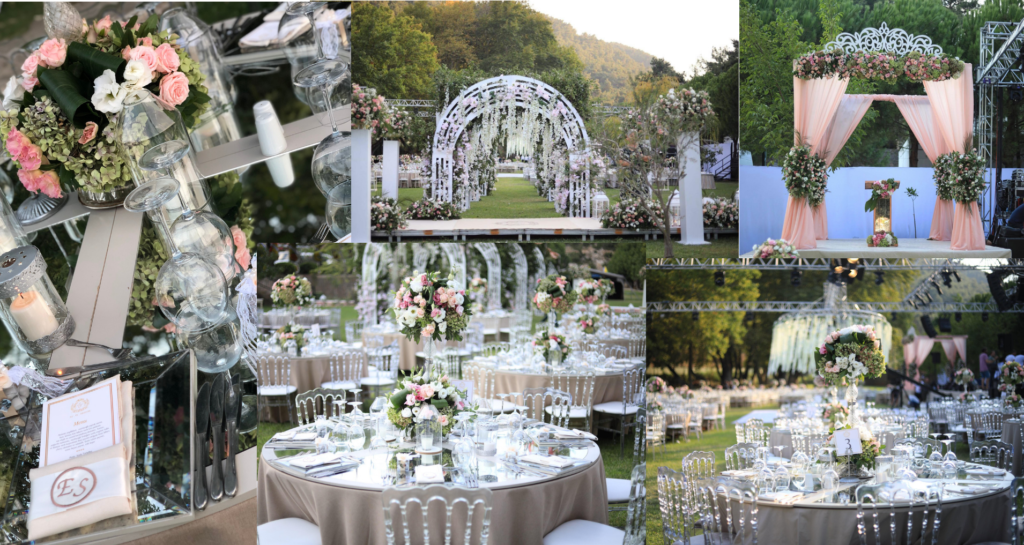 As there were so many people the wedding was more like a show, a Royal Show that is. The ceremony was about 15 minutes, followed by the first dance. Then there were traditional Turkish dancers and two local pop singers. One of them (called Gülsen, below in silver) was supposedly the biggest pop star and asked a five figure fee for the gig. Yikes!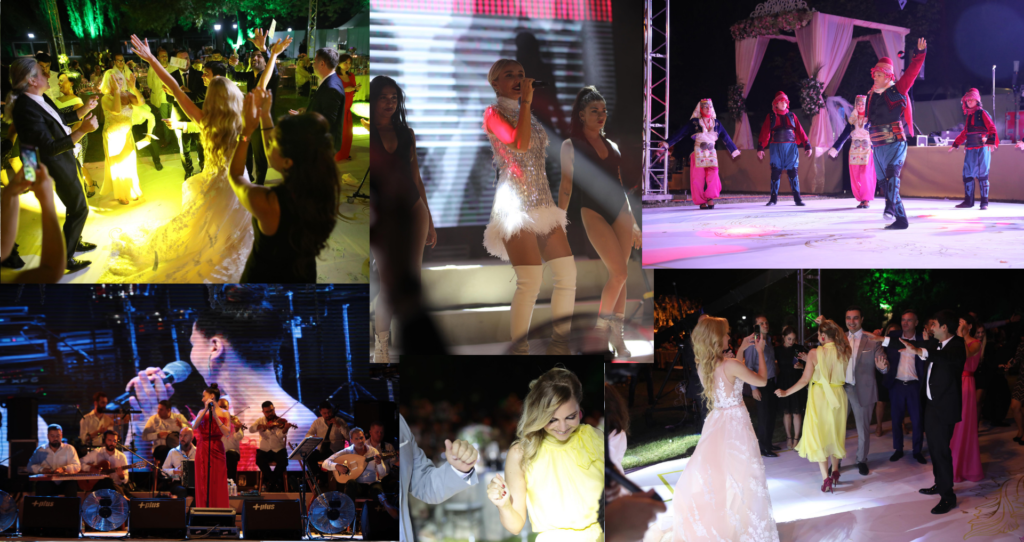 Meanwhile there were four courses of dinner. First there was a variety of Turkish appetizers, then there were raviolis. As the main course we were served slowly cooked lamb with potato mash. All very traditional, besides the raviolis. And then there was the cake ceremony.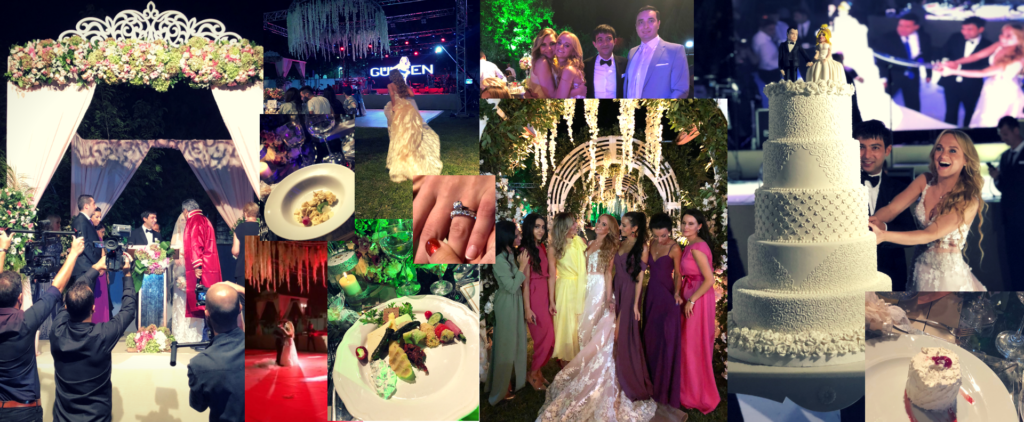 The cake was EPIC – a five-layer coconut cream and raspberry. Actually the clever thing they did. They had a separate cake for the show and already cut round little pieces of cakes placed on the plates to be served for the guests. I mean it's kinda obvious, if you think about it. With that many quests it would take hours to slice and serve the cake and then it wouldn't look that nice either.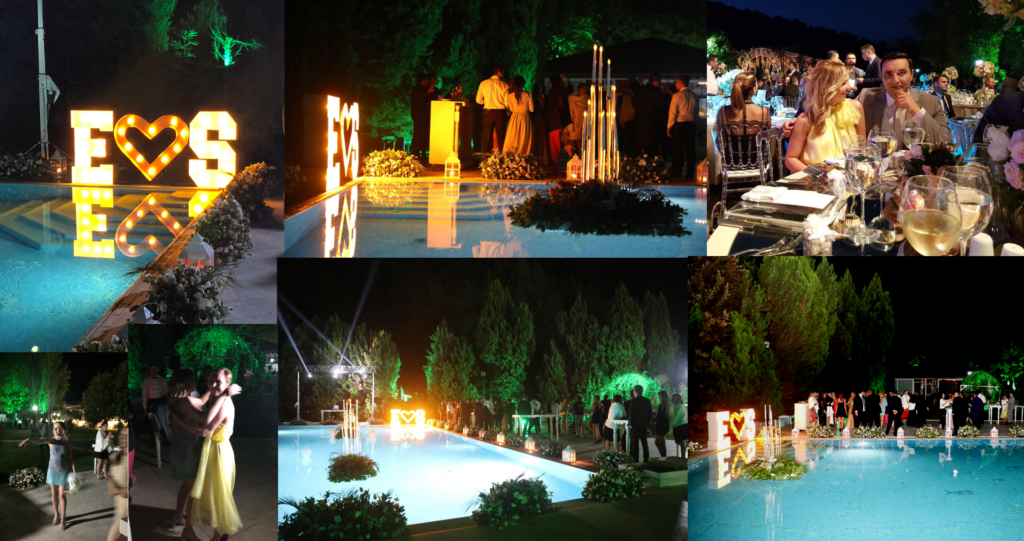 After the official wedding celebration there was an after party by the pool. The poolside was also decorated with lots and lots of flowers and balloons (which were quickly destroyed by the kids). The after party part was more for our group and some other younger and close guests. There was more European music and cocktails that we are used to. Also, that was the time when the bride threw the bouquet.. straight into my arms. Guess that is a sign for something. 😉
Hope you're still alive after reading a post that long.
Thank you!
Continue reading – Part 2 of the amazing trip to Turkey!
K.