Turning demotivation into motivation
For quite some time now I've been in a real struggle with myself. Feelings like lack of motivation, laziness and dash of even a dash of depression have been my everyday companions. The smallest things have caused me mental struggles and arguments with myself, which is very unusual for me. The lack of motivation has taken a real toll on my life and I need to take charge. Nobody else won't do it for me so I've got to stay strong, determined and disciplined. Plus, I have a huge wedding I'm going to attend to in September where I have to look my best!
I've come up with a little plan to get my life in order.
The first thing that I need to do is to write down all of the sections in my life that I'm going to start working on.
Baby steps.
Nutrition
I  guess part of the reason why I'm feeling deflated is because I'm not giving my body the nutrition it needs. I wouldn't say that I eat unhealthily and I'm not going to take extreme action, but I'm just going to inform myself to make better choices.
First thing that I'm going to do is to drink less coffee and more lemon water! Because among many other benefits, adding lemon to water helps to detox your body and skin, boosts vitamin C intake and makes you feel fresher. I already drink lemon water first thing in the morning with my vitamins so that shouldn't be a problem during the day also. Additionally, I'm going to do some researches about what and how to incorporate to my diet* so I would feel better. I even talked to a friend who specializes in nutritional food planning and she promised to work out a proper diet plan with me. Exciting!
*If I mention diet, I don't mean diet as in extremely low caloric eating, I mean diet as in lifestyle regarding food.
Healthy habits
Since I'm not actively working out at this point I should just start to move a little more. For example, try to walk a little more each day and then take up running again. And yoga at least once a week – I'm officially a yoga teacher so I should practice yoga actively, shame on me. Additionally, I'm going to go back to the gym, it's slightly boring but it really works!
Discipline
Honestly, I am a very-very lazy person and I hardly get into real routines. I do things for some period of time and then, just when it starts to stick with me, I ditch the activity and find something else to do or do nothing. For my own good, I need to get my self-discipline in order, incorporate the above habits and move on from there. Slowly but surely.
Kind mindset
Lastly, maybe even most importantly, to do all of the above I know I need to have kind and loving mindset towards myself and others. By motivating myself with kind aspirations, doing little acts of kindness good things will start to take place. I really believe that with a positive mindset you pull positive outcomes into your life.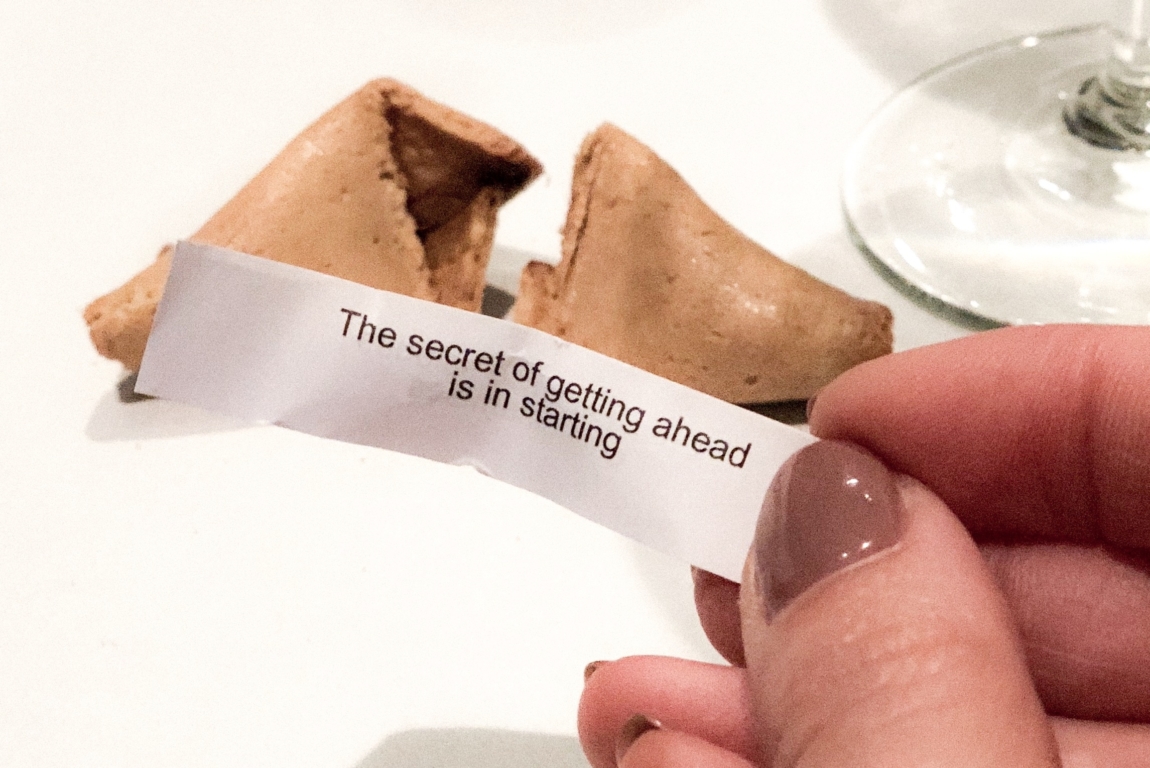 Last week I was offered a fortune cookie and the fortune I got – I couldn't agree more with it!
The Universe sent me a rather strong message, don't you think?! 🙂
Anyway, I'm going to start my self-improvement project and I'm going to keep a diary of it.
Stay tuned!
Kai