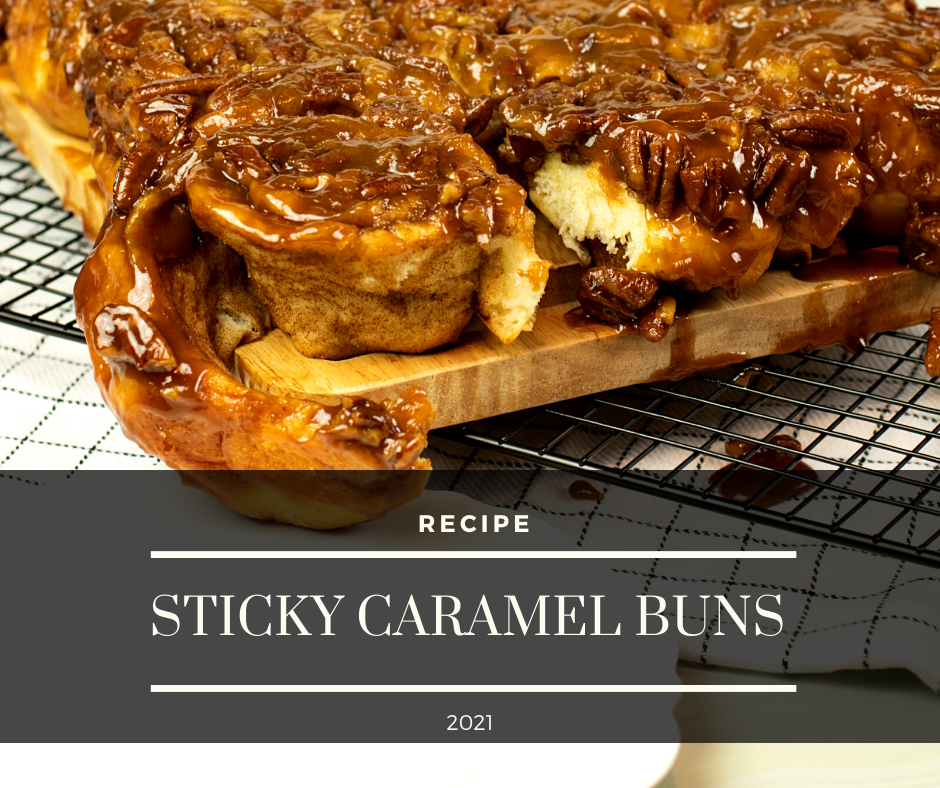 Sticky Caramel Pecan Buns
As sunny summer turns into golden autumn and sundresses to cozy knits I think it's only appropriate to add something extra to your treat list. Honestly, there is nothing more extra than super soft and fluffy cinnamon buns covered with sticky drippy caramel and crispy pecans. Absolutely perfect indulgent when you don't have to keep an eye on your calories.
My love affair with sticky buns began a few years ago when a new cafe right downstairs my apartment started offering them a few times a week during lunchtime. Whenever they are baked, the whole street is full of the intoxicatingly sweet smells of cinnamon and caramel – much too hard to resist. So, naturally, one day while enjoying my bun with a cup of coffee I started to wonder, why not try to make them myself. How hard could it possibly be? Let me just tell you this – it's a bit of a hassle. So baking them is a good idea for a weekend bake, but I promise, these caramel cinnamon buns are well worth the effort!
The ingredients
The buns
1 pack about 12 g of dry yeast
200 ml of 40C milk
150 ml of 40C water
100 g sugar
3 tbsp melted butter
2 tsp salt
550 g wheat flour

The filling
40 g butter
225 g light muscovado sugar
5 tsp cinnamon
just a bit of grated Muscat
The caramel
225 light muscovado sugar
150 ml heavy cream
30 g butter
150 g Pecans
The preparation
In a large bowl mix dry yeast, milk, water and let it activate for 10 minutes. Add sugar, melted butter, salt, and half of the flour. Stir until everything is mixed. Gradually add the remaining flour and mix until you have a soft dough. Place the dough on a floured work surface and knead for 5-8 minutes. Put the dough in a greased bowl and let rise in a warm place for one hour.
Make the caramel in a saucepan over low heat, mix together sugar, heavy cream, and butter. Place the caramel aside to cool.
Lift the risen dough onto a floured surface and roll about a 35 x 20 cm rectangle. Brush melted butter on the dough, sprinkle a mixture of light muscovado sugar, cinnamon and nutmeg. Roll the dough, cut off the ends and cut into 12 about 2 cm rolls.
Pour the caramel into a baking tin, sprinkle crushed Pecan nuts and place the cinnamon rolls in the tin, so that there is an even space between them. Cover with a towel and let the buns rise for an hour in a warm place.
Bake at 175 degrees for 30-35 minutes. Allow to cool for a while and turn over on the serving tray.
Enjoy!