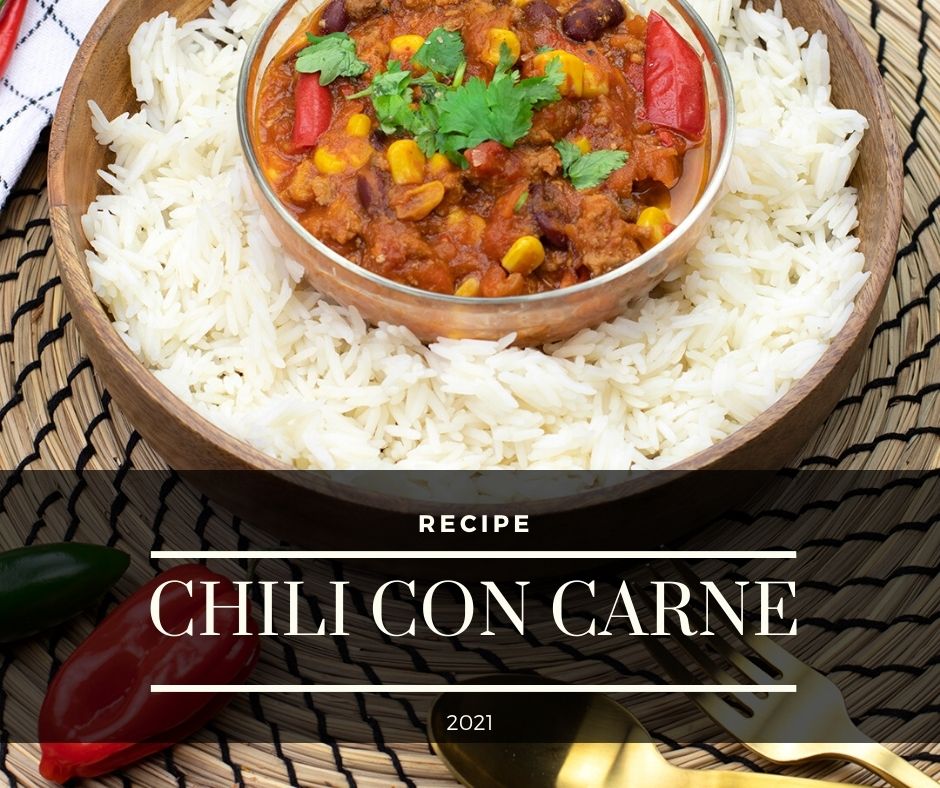 A true comforting classic – Chili con Carne
Chili con Carne is such a classic comfort food, it's impossible to not like it. Though cooking this delight might seem like a complicated and long process with an even longer list of ingredients then, in reality, it's more like an easy one-pot meal you can cook in large patches and eat for days. The more you wait the more all the spices get to infuse and develop into an even deeper level of satisfying deliciousness. This time I'm going to share my version of this legendary one-pot meal enjoy it the same day or warm it up and eat it with some nachos the next.

The ingredients
2 tbs coconut oil
1 large onion
1 red chili
3 cloves of garlic
1 tsp chili flakes
3 tsp salt
1 tsp black pepper
1 tsp ground paprika
2 tsp cumin
600 g minced beef
300 ml of beef broth
800 g tin tomatoes
1 cinnamon stick
1 piece of dark chocolate
400 g tin sweet corn
3 carrots
1 paprika
400 g kidney beans
The preparation
Heat oil in a large pot over medium heat and add chopped onion. Halve and chop the chili, if you want more spice leave the seeds, when milder remove them. Crush and mince garlic cloves. Add garlic and chili to the pot. Add chili flakes, salt, black pepper, ground paprika, cumin. Allow to brown for 5 minutes. Increase heat and add minced beef, season with salt and pepper. Brown the minced meat, but do not allow it to cook through. Add broth, crushed tomatoes, cinnamon stick, chocolate square, corn, grated carrots and chopped paprika. Mix the ingredients, raise the heat until the sauce starts to bubble. Reduce heat to medium and let it simmer for 60 minutes. Make sure that the food does not burn to the bottom and gently stir from time to time. If the sauce becomes too thick, add a little water.
Add the kidney beans and simmer for another 10 minutes on low heat. Now try if you wish to season some more.
Serve with Basmati rice and fresh coriander.