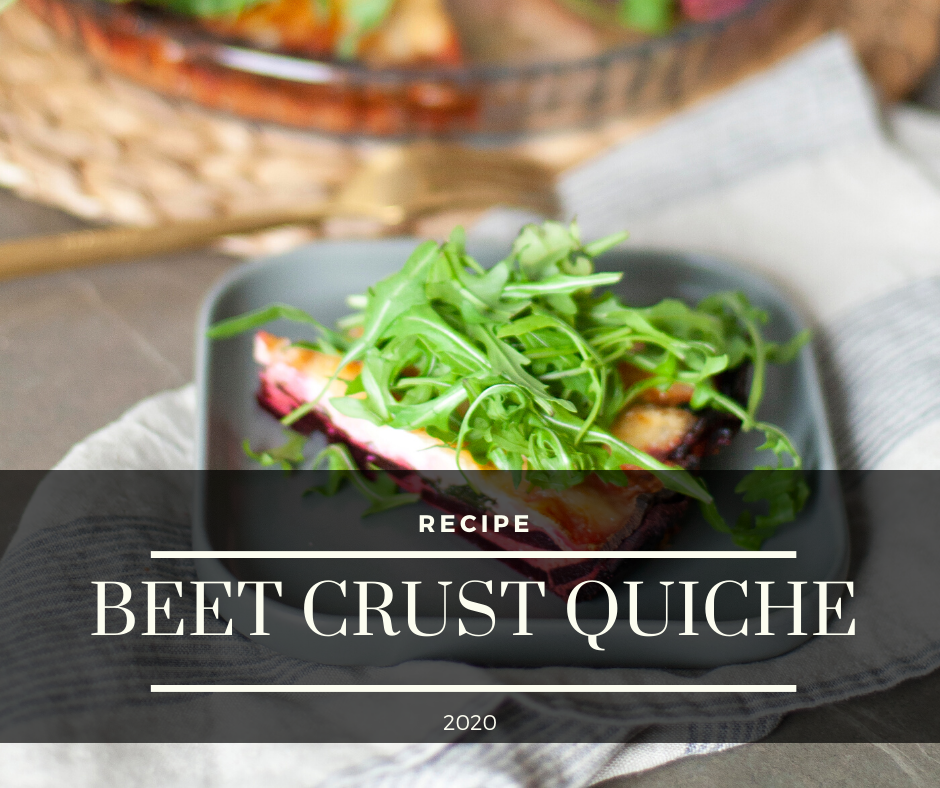 Simply wonderful make-ahead main that is perfect for brunch or a light main. Much easier to make than it might look and lower in calories than your usual quiche.
This quiche is in essence similar to the one I shared some time ago and where I used sweet potato as the crust. Just like previous one, this too is a rather healthy dish. So you can have one or two slices without any worrying.
The basis of this quiche consists solely of beets. If you have a mandolin than it's advisable to use it for slicing them. But if you don't have it, then a nice sharp knife does the job just as well. The filling you can mix up – make it vegetarian or add some chicken or ham. Be creative and enjoy the process.
What you're gonna need
24 cm glass flan dish
1 tsp olive oil
3 bigger beets
2 shallots
1 package baby spinach
70 g smoked chicken
80 g goat cheese
150 ml cooking cream
4 eggs
50 g cheese
salt, pepper
rocket leaves for serving
Preparation
Preheat the oven to 180

°. Peel and slice the beets.  Coat the dish with olive oil, then cover the bottom of the dish with beet slices. Cut the rest of the slices in half and fill around the edges, round sides upwards. When the dish is covered with beet slices, spread some olive oil and add some salt and pepper. Bake the crust for 15 minutes.

Mince the onions. Heat a pan over medium heat with olive oil, add the onions. When the onions are golden add the spinach. Sauté for 3 minutes. Remove from heat and set aside.
Spread the onion and spinach mix on the beetroot crust. Add goat cheese and smoked chicken.
In a bowl, whisk the eggs and cream with salt and pepper to taste. Pour the mixture on the filling.
Cover the filling with cheese slices and make for 30-35 minutes.
Serve with rocket leaves.
Enjoy!