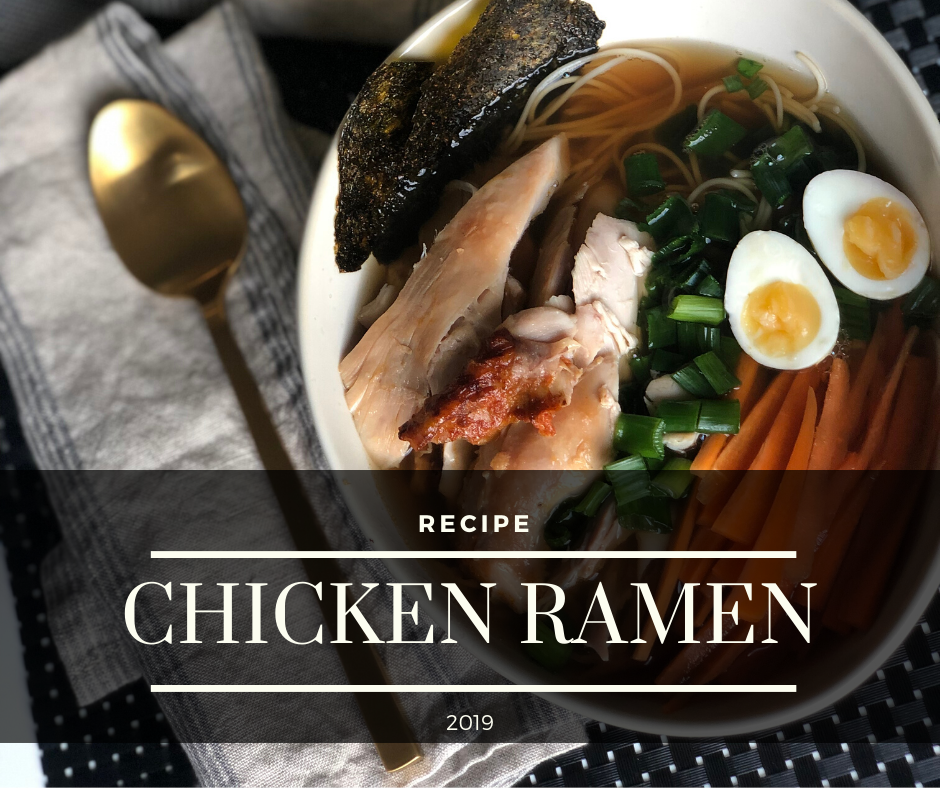 Chicken Ramen! Quick, easy and under 30 min!
Making Ramen at home could be a pretty elaborate affair lasting for days, but on a modern day like today who has the time for that?! Nope, not me! Definitely not after a long day at the office.
I craved for a Ramen that consisted of grilled chicken and lots of noodles drenched in deeply flavoursome broth! This craving needed to be satisfied so to keep me happy I came up with this recipe. Usually, I have about 30 minutes to fix up something for dinner. Today, with some diligent planning ahead I made Chicken Ramen in 30 minutes!
Since this recipe is about making delicious dinner the quick and easy way, then I'm giving everyone a heads up – there's quite a few shortcuts i.e. store brought condiments.
The preparation
The most important ingredient – and I guess a lot of you would agree with me on this one – in a Ramen is the broth! Without it there is no Ramen. In my quick and easy Chicken Ramen, I used readymade FS Goods Chicken Broth. It's made from local ingredients and is in fact so ready to make all you have to do is heat it up and pour it on whatever you wish to. Super easy and versatile for any recipe from all kinds of soups to risottos to anything, really.
The full list of ingredients in the FS Goods chicken broth are the following: chicken bones, carrot, onion, parsley root, sea salt, black pepper, parsley, thyme, bay leaf. It's lactose and gluten-free and comes in different sizes too so you can use it for making dinner for one or for four. So, I rest my case – at least the shortcut I'm using is a neat one!
For this Chicken Ramen, I poured the broth in a pot, added some soy sauce and heated it up to boiling.
The second quicky I took was a store brought, warm, meaty, mouthwateringly juicy, grilled chicken thigh. But I'm not giving any more comments on that one.
The third step is actually preparing the eggs. This time I used quail eggs, but regular eggs go just as well. You just have to boil them beforehand. I boiled my quail eggs for exactly ONE minute because I wanted to have a little gooeyness inside. With regular eggs, you get that with five minutes of boiling. If you wish to get more details about boiling and peeling the eggs then I wrote about my method for boiling the eggs just perfectly in this post.
Now the quick last things. Put the noodles in the boiling broth so they will absorb some of the broth's goodness.
At the same time julienne the carrots and chop some green onions or chives.
The fun part, now that all the preparation is done, there's nothing more left to do than to put all the ingredients nicely in a bowl and enjoy the Chicken Ramen!
The ingredients for one
350 ml FS Goods Chicken Broth
Soy sauce to taste
1 big and juicy grilled chicken thigh
1 small carrot
1 quail egg
Ramen Noodles
Green onion
Kim Chi Seaweed chips (optional)
Hope you like it!
K.