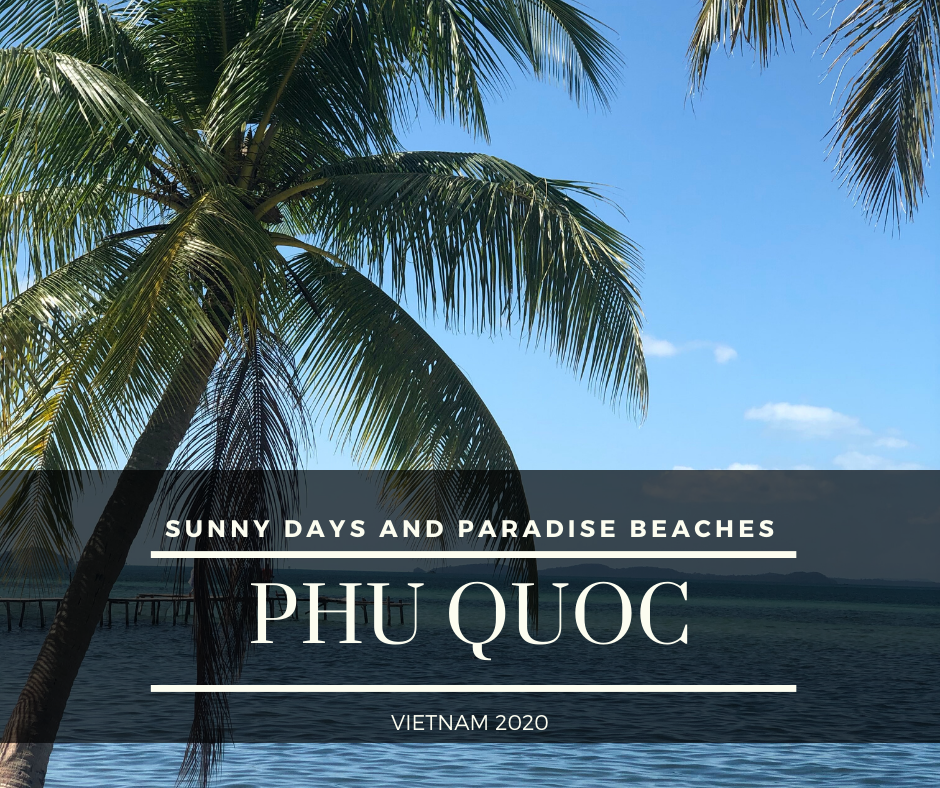 Phu Quoc, Vietnam 2020 – sunny days and paradise beaches
At the beginning of this year, I had a nice two-week-holiday on Phu Quoc island, located on the West side of Vietnam right under Cambodia. This trip was truly such a joy – so many beautiful beaches, sunny weather and overall a true dream vacation. Even though I visited Vietnam just around the peak time of Coronavirus, besides some (mostly service staff) wearing face masks there was no real threat to health.
In this travel post I'm gonna share some of the most beautiful and fun places I visited during this trip and give some recommendations, so get ready to be inspired.
The Beaches of Phu Quoc
If anything, I'd say Phu Quoc is known for its fantastic beaches. There are dozens of wonderful beaches all over the coastline, we managed to visit just a few of them. There are still many beaches that look wonderfully wild. But I must say, there are signs of rapidly growing tourism. From the looks of construction sites, it will take over most of the wilderness in just a few years time. For now, I would recommend renting a motorbike, ride around the island and just take in all that Phu Quoc has to offer, starting from the beaches.
Bai Truong (Long Beach)
So, the first beach we visited was Long Beach. This beach – as the name suggests – is long, 20 kilometres long that is! The sand was more golden yellow and there's a lot of great beach bars along the coast. I wouldn't recommend going to sunbathe and go swimming in the sea in Long Beach since the water wasn't that translucent, but I would recommend going to enjoy the sunsets and cocktails at Long Beach. Some of the best beach bars we visited were The Ocsen Beach Bar (pictured on the right) and Shri Beach Bar Phu Quoc (pictured on the left). Both of them had great music and a really chill vibe. Tho, I would say The Ocsen had better cocktails, then again Shri had a nicer scenery and you could see planes flying by on a low altitude since the airport was close by. Also, how could I forget, the fries at Shri were absolutely the bomb.

Vung Bau Beach
Vung Bau Beach was our most favourite one of all of the beaches. Of course, it took a 20-minute ride on a dirt road before we made it there but it was worth it! Vung Bau Beach is a largely lonely beach in a rather secluded location. With just a few travellers enjoying the quietness. Fine sand that made a crunchy sound when walking on and the sea so clear and beautiful – this beach was truly an idyllic paradise.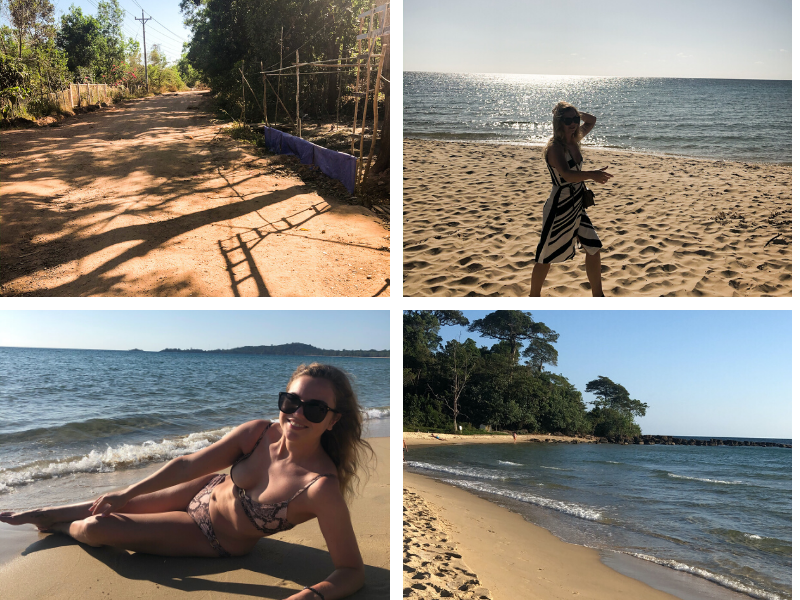 Starfish Beach
Located on the north-west coast of Phu Quoc there's Starfish beach. Famous for hundreds of starfishes, white sand and completely translucent water. Sounds like a dream, doesn't it?! Well, it was a beautiful beach but was so crowded and narrow compared to other beaches. Not to mention absolutely everyone was taking pictures on pretty much every metre along the coast. We stayed there just for a few hours.
Oh, and a weird-funny thing happened at Starfish Beach. During the few hours we stayed there I saw a man walking along the beach taking starfish from a box a throwing them in the sea near the shore. Not what one would expect to see.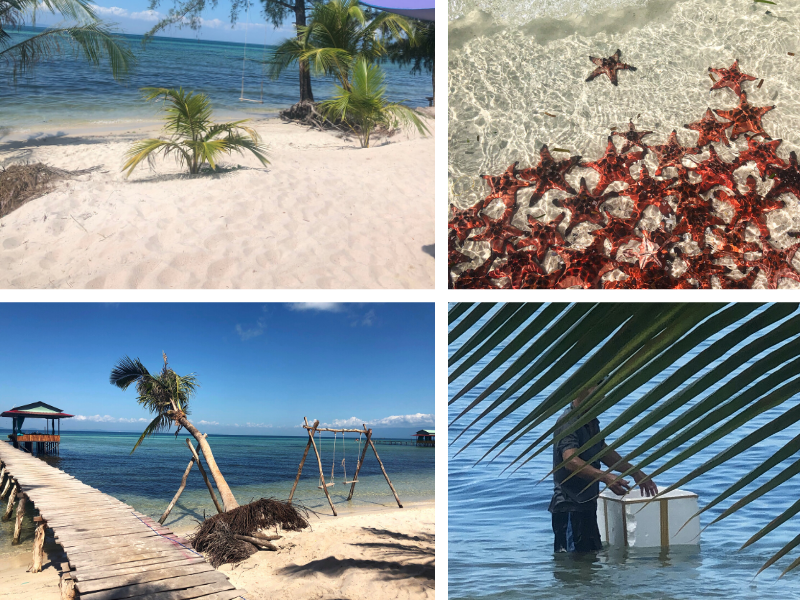 Bai Sao Beach
On the south-east coast of the island, there's Sao beach. Very popular among many and with great reason too. This beach was beautiful with snow-white sand, arching palm trees and turquoise sea. If compared to Starfish Beach, then the coast was much wider and didn't feel as crowded. The sad part about this beach is that there's so much garbage drifting from the sea, you really have to look out.
Tourist attractions: Safari, Cable Car and The Night Market
As Phu Quoc island has been growing in popularity lately, there are quite a few attractions to visit as a tourist and surely there will be many more in coming years. We went to two very much made for tourists – Vinpearl's Safari and Cable Car Ride. The third – very popular among many – of course, The Night Market.
Vinpearl Safari
Vinpearl Safari and conservatory park is the only zoo in Vietnam that has been built according to international Safari model. This zoo has around 3000 individuals, representing about 150 species of rare animals from around the world – all of them divided into two main areas: Wildlife Park and Open Zoo.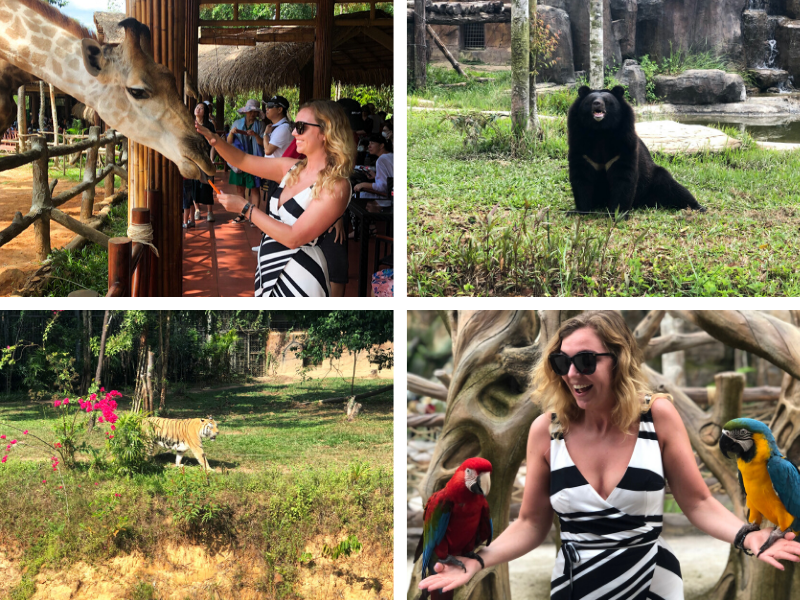 In this zoo, you can see all the beautiful and wild animals you expect to see from tigers and lions to zebras, gorillas, elephants and really all the animals in any other zoo. What makes this place stand out is the wildlife park – where a bus takes you through the park so you can see all the wild animals really closely living in the wild. And that's not all, after the safari ride, there's a giraffe café from where you can buy some veggies and feed the giraffes yourself. A lot of fun and walking for hours.
Phu Quoc Cable Car
Located in the very south of the island there's the Cable Car Ride. It's the longest cable car ride in the world! The ride takes about 15 minutes, during which there's a breathtaking view all over the sea. Compared to the average speed of other cable car routes, it is quite fast with the speed up to around 30 km an hour apparently, so you genuinely feel like you're flying above the water.
Ticket wise, no need to book in advance, just go and buy one at spot.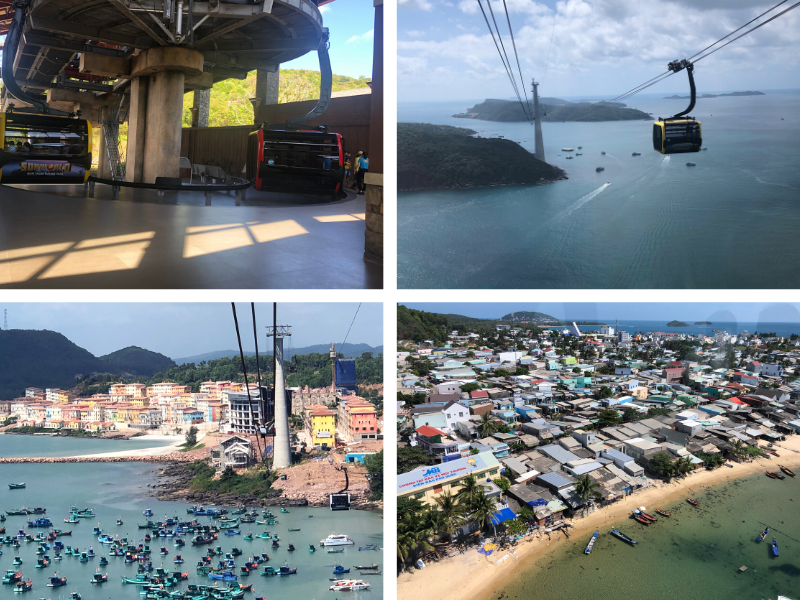 The cable car ride takes you to Polynesian style island. I don't have much to say about it. It was pretty but veeery touristy. There was a huge water park too, but we weren't into going there. We just walked around the island for a few hours, ate lunch and went back with the cable car.
GOOD TO KNOW, the cable car makes a break from 12 pm. The signs said it lasts for 90 minutes, but we managed to get on a cable car around 1 pm and get back to our main island.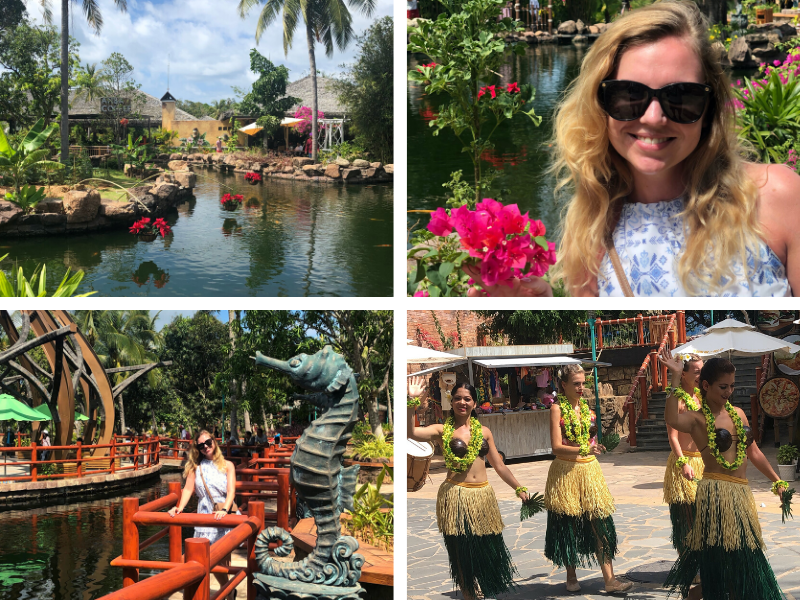 Phu Quoc Night Market
When talking about a destination like Phu Quoc I simply can't leave out the famous Phu Quoc Night Market. This is the place were absolutely everyone goes and where you can find everything from local delicacies to fish and snakes in tanks to pretty little souvenirs. This place opens around 5 pm and gets busy quickly.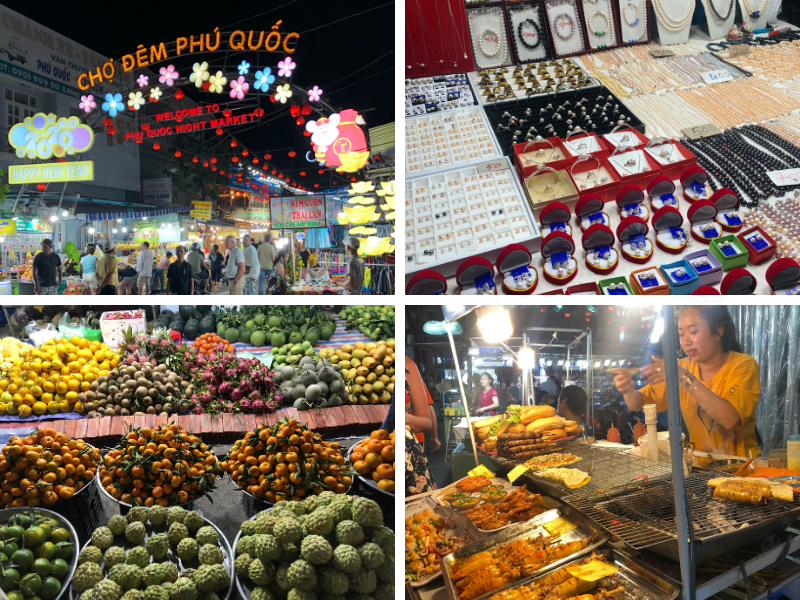 One evening we decided to visit this very famous and highly recommended crab restaurant called Crab House. The menu there is rich with different kinds of seafood and a wide variety of crab. Also, they have a special crab sauce that is divine!
Just one little pointer, one should not go to eat there and not wash their hands before digging in. My bf accidentally licked his unwashed fingers after delighting in a humongous portion of crab and got a little case of detox for a few days after. Thankfully we were well prepared for such case and had some medicaments with us, so all was good. Just a few days relaxing by the hotel pool (or bed for some). Nevertheless, I would recommend going to the Crab House and trying their special crab sauce.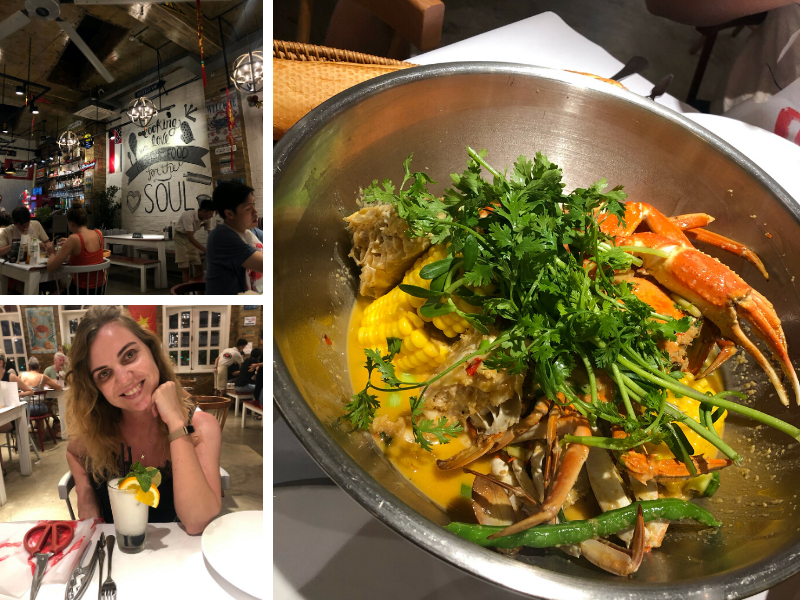 M Resort Phu Quoc
The whole two weeks we stayed at M Resort Phu Quoc, which is a boutique hotel located near Long Beach. The hotel has been open from the beginning of 2019. So it's fairly new but has been opened enough to have things running smoothly. The room we stayed in was called The Figtree House, honestly, it felt like a bungalow and I loved it. Also, the staff was super friendly and so helpful.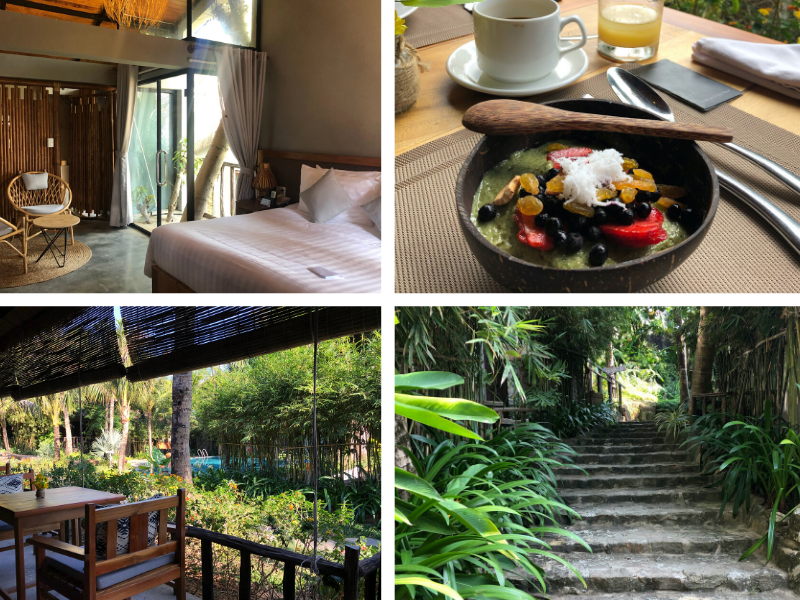 Another great thing about this hotel was the breakfast. It didn't have a traditional hotel breakfast buffet table. But you could choose from a breakfast menu that consisted of smoothie bowls, fruits, avo toasts, different egg dishes, porridge and local soups.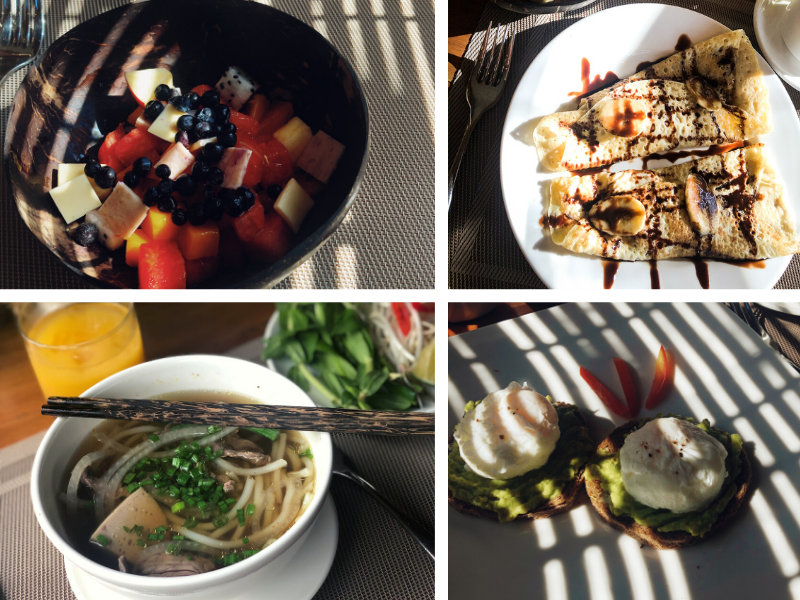 Overall, I would very much recommend going on Phu Quoc for an island holiday. It's still not as crowded as Phuket or some other popular destination. The weather is mostly sunny and not too hot, people are kind tho not too fluent with English. Prices are super low and it's not dangerous for tourists.
You can rent a motorbike from pretty much everywhere and get around the island easily. The traffic over there is not as crazy as you'd expect, but wearing a helmet is a must. Beautiful beaches along the coast and great beach bars to enjoy golden sunsets by The Gulf of Thailand.
Have you been to Phu Quoc? What what the best part you liked?
Let me know!
K.