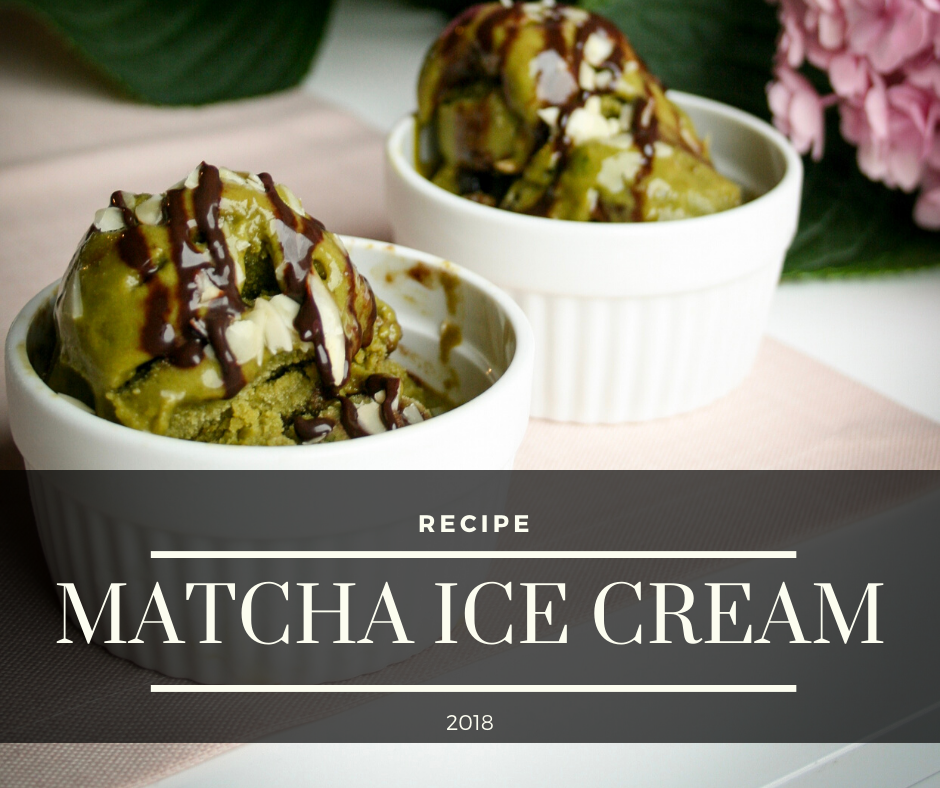 An affair to remember: Guilt-free Matcha Ice Cream & Devious Chocolate Syrup
In this blog post I'm going to share two recipes – Matcha Ice Cream and Chocolate Syrup – something guilt-free and healthy that pairs perfectly with something a little devious. Both of which you can keep in your fridge for those days you just need something a little more special to treat yourself for being the amazing YOU!
As I've been working on myself extra diligently and trying to keep my eating habits as clean as I can these days, I still haven't been able to shake off the feeling of wanting to have something indulgent from time to time. Thus, I came up with something that is easy to make, has some healthy benefits and hits just the right spots.
The Matcha Ice Cream recipe I'm sharing with you is dairy free, has NO white sugar, tastes GOOD and you won't need any special equipment besides a blender (and a freezer would be nice).

The ice cream is super easy to make with just FOUR ingredients! Now I won't say that I created it myself, surely there's a lot of different kinds of Matcha Ice Cream around the internet, but I did try and test different variations that came to my mind until it turned out just about right in my opinion. So feel free to give the recipe a go and don't hesitate to add anything and everything that seems good to you.
MATCHA ICE CREAM RECIPE
The ingredients:
– 3 Frozen bananas
– 1 tsp Matcha powder by yksvagahea
– 1-3 tbl Maple syrup (depending on how big of a sweet tooth we're dealing with)
– 100 ml Oat Milk or any other subtle taste plant based drink
The making:
– Prep the bananas at least a day ahead. I recommend to peel them, cut into small pieces, put the pieces into plastic bag(s) and pop into freezer. In that way the bananas freeze quicker and are easier to mix.
– When the bananas are frozen take them out and put into a blender or a food processor, if you have one.
– Add Matcha, Maple syrup, Plant Milk
– Combine until the mixture is smooth
– Taste the mixture to make sure it's sweet enough for your taste
– Put the mixture into  a plastic container, smooth the surface and seal
– Freeze for 24h
THE CHOCOLATE SYRUP

And now the Chocolate Syrup. Haven't given it any credit in this post, but it's actually one of my favorites these days. I like to drip it on my weekend morning ice latte, pour it on the top of my ice cream or just enjoy it by itself.
This one is a little devious since I used white sugar in it. I'm not really sure why I did that because I haven't had a pack of white sugar in my kitchen for at least 5 years.. until now.
The syrup should be done well ahead since it needs to cool and we don't want it to melt the ice cream right away.
The ingredients:
64 g Sugar
64 g Good Quality Dark Chocolate Powder, I used yksvagahea Dark Chocolate Powder – already the smell is just to die for!
1/2 tsp Himalayan Salt
64 ml Cold Water
1 tsp Pure Vanilla
The making:
– On a medium heat sauce pan whisk together Chocolate Powder and Sugar. Mix it well until the sugar has melted and blended with chocolate powder
– Add water and Himalayan Salt. Continue whisking to make sure nothing gets stuck on the bottom
– Boil for 3-4 minutes while mixing it
– Take it off the heat and let it cool. The syrup will still be quite thin, but it will thicken up with cooling
– Put it into a jar and store in the refrigerator
Hope you'll enjoy those recipes as much as I do and don't forget to twist and experiment along the way.
Thanks for reading!
♥
K