Turning demotivation into motivation: week 1
A week ago I wrote about how I need to pull myself together, get my motivation mojo back on and start taking action towards a better me – mind, body and soul.
Against all odds (i.e. my laziness and love for food) I have made some changes in my life that I think can be considered as considerable progress.And to keep myself in the motivation momentum I'm gonna list down the things I have started working on by sections as mentioned last week's post.
Nutrition
1. I am drinking more water on a daily basis. Adding lemon to it. 😉
2. I quit drinking coffee (wait for it) with regular milk (can't quit coffee that easy 😀 ). Drinking coffee with cow milk was literally the worst bad habit thing I did, since I have milk protein intolerance. I drank the regular milk with my coffee at work since it's just there and bringing my own almond milk to work is slightly inconvenient. But as all things – I'll get used to it.
3. I'm drinking more smoothies too and started to test new superfoods. I have been a superfood junkie for years and years but always ended up buying the same things. So I decided, since there's so many new and really good local brands out there, I should try new superfoods! Yesterday I ordered BE MORE small packages combo and BOOST YOURSELF small combo. BE MORE package arrived today so I'm already testing them and drinking a green smoothie enhanced with detox mix(pictured below). You can find the refreshing light green smoothie recipe at the end of this post! Btw, I really like the name and slogan of Be More, I feel like by drinking my Be more enhanced smoothie I am being more and I like it.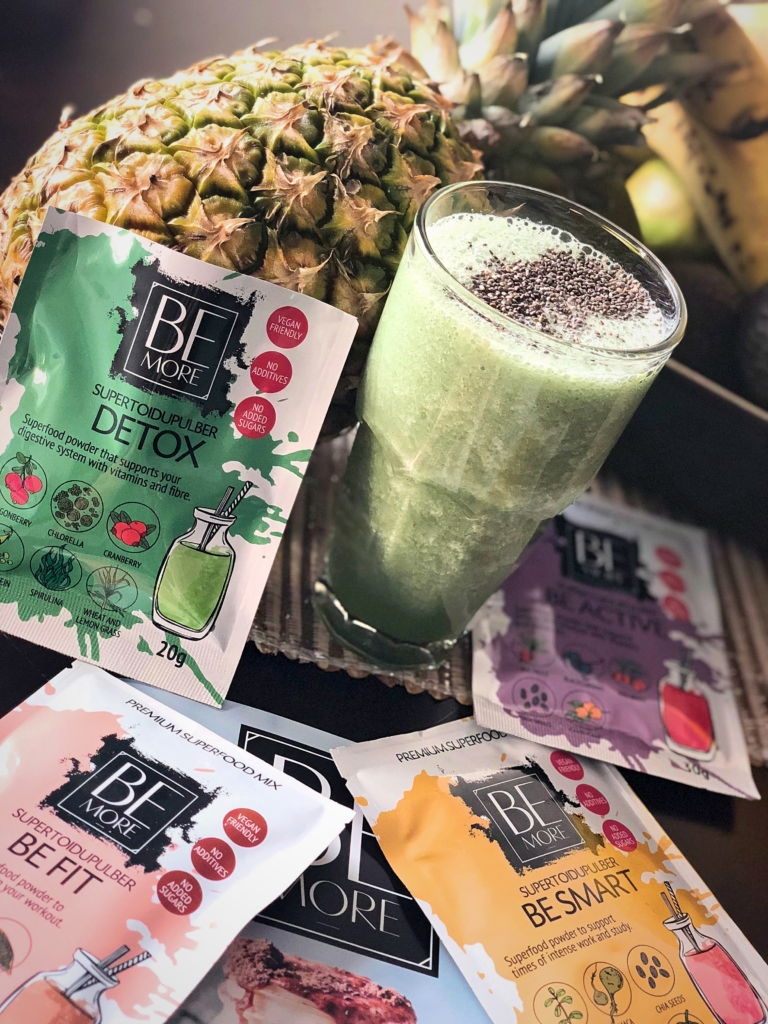 Healthy habits
I started working out! Yey! Haha, I feel like that is such a big win. I had my first workout today and honestly I felt like a piglet out of breath trying to keep up with rabbits and foxes. But right now I'm riding the afterwave and it feels so goooood. Talk about motivation – I can't wait to get back to the gym! 🙂
Discipline
This one is a bit tricky since I believe discipline is something you need to work on longer to actually understand wether or not you have it. But I'm figuring out my schedules and routines and I think at this point just actively thinking about it is too a good step towards success.
Kind mindset

I think a good example is from today's workout class. I really saw myself from the mirror and the reflection did not look good. My movements were stiff and my body just too round and mushy. But I kindly laughed at my stiff moves and kept encouraging myself during the whole time. In my mind, of course. I told myself that I'm doing really great and if I keep going I'm going to jump and do all the things just as well as all the rabbits and foxes around me. BUT I didn't force myself to overdo anything, I kept reminding myself that it still is my first very strong workout after a long pause.
I believe this kind of conversations to myself are the ones that make me be more kind and accepting toward myself first and then others too. 🙂
In conclusion, I think it's safe to say the first week has been a success. I didn't have too high expectations on myself and thanks to that everything I did towards bettering myself felt rather natural and good. I'm already feeling motivated and excited, eager to continue my journey.
And now the light green refreshing detoxing smoothie recipe!
In a blender mix together:
150 g melon
1 green apple
splash of fresh lemon juice
70 ml coconut-rice drink
70 ml water
ice
1 tsp Be More detox mix
Chia seeds for topping
Blend it all real well and you should have a generous amount of refreshing smoothie!
Until next time!
Kai