Budapest – the trip that almost didn't happen
During midsummer, I had planned to visit Budapest. I was so excited about it since I've been there once and I only had great memories from it. But something happened, something so bad that made this trip almost not happen.. at least for me.
Things to do in Budapest
Since this trip was just three days we didn't manage to do too many things but what we did were the absolute musts. I'm gonna list them down and just give a short description of why it is a must.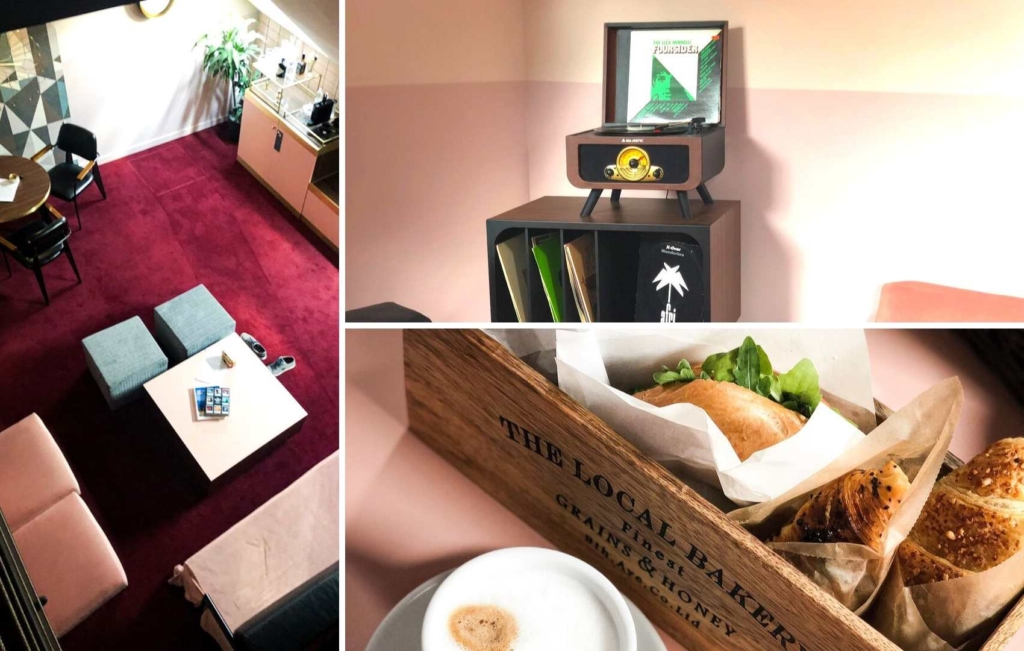 Stories Hotel Budapest
Luckily I did manage to go and still had a bit of fun. We stayed in a rather interesting hotel named Stories Hotel Budapest. The rooms itself were mostly loft style with two floors. Lots of room to relax, put your things away neatly and have breakfast. Indeed, they served breakfast as part of room service. So every evening we made our order at the reception and the breakfast was always SO GOOD and pretty much the only food I ate during our stay, but about that later. Anyway, Stories Hotel Budapest totally won my heart. Unique style, huge and cool rooms, very welcoming staff and what else? Hm. Well, the location is too just fantastic – pretty much right in the centre, 15-minute walk to the Castle. If you're going to stay there, you will not regret!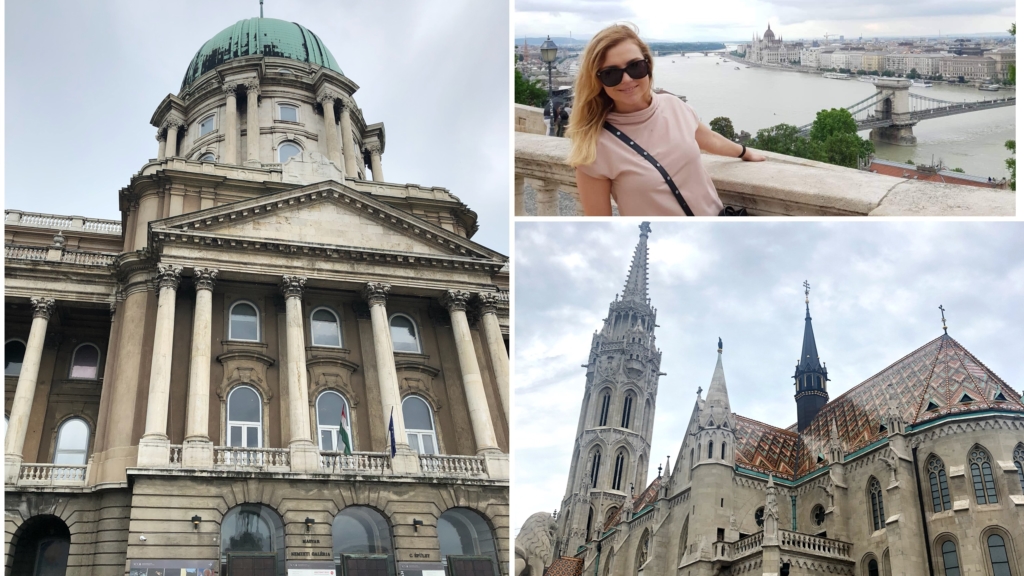 As I mentioned the historic castle hill was just 15 minutes from the hotel so we walked there. The weather was slightly drizzling, but otherwise quite warm so we didn't mind a little refreshment during our walk. Of course, there is the famous funicular as seen in the movies. It looked cute, but there was a rather long queue and it went up only like three floors, so skipped that one. The view over Danube river looking towards the Pest side of the city is pretty epic! The view to the Pest side and to the Parliament building is wow. There's so much history, you can feel it in the air.
Additionally, when you walk more into the castle area there is a little market that smells of cinnamon, in an intoxicating way. Yum yum yum.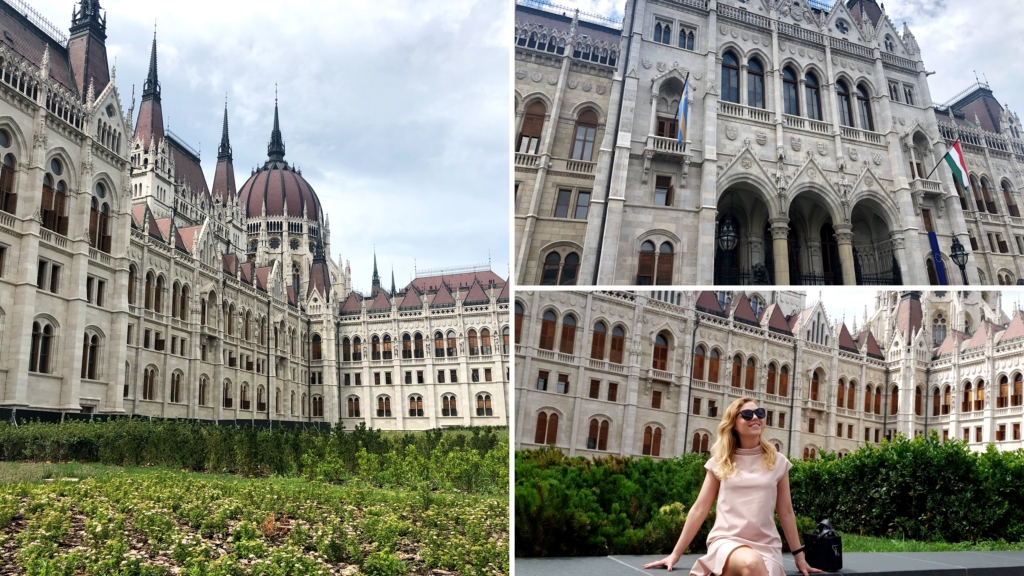 So about 10-minute walk from the castle to there's The Parliament House. It is situated in Kossuth Square, in the Pest side of the city and on the banks of the Danube. You simply can't miss it – it's huge. It's historic, it's gorgeous and super cute vintage trams drive next to it. It's currently the largest building in Hungary and it was opened in 1902. Also from inside the parliament is symmetrical and thus has two absolutely identical parliament halls of which one is used for politics, the other for guided tours.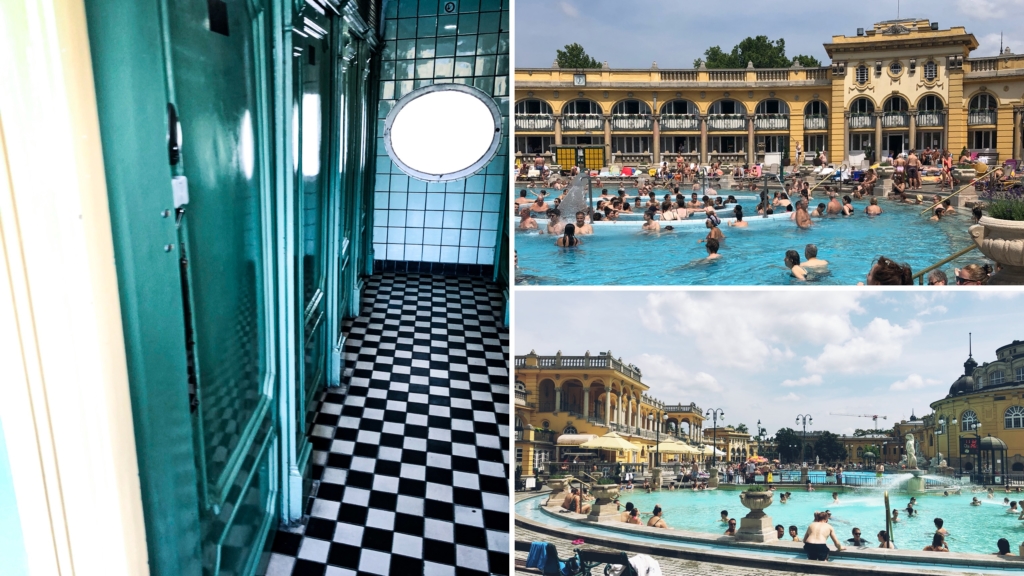 I'm quite sure that everyone who has at least googled for grand spa pictures has come across Szechenyi Baths. It's ancient and apparently the largest spa baths in Europe with its 15 indoor baths and 3 grand outdoor pools. The Szechenyi Baths spa was built in 1913 and it's one of the most popular tourist attraction in Budapest (as seen on pictures). The pools have medicinal natural hot spring water which is very good for the skin and hair.
We went there on a Monday and it was quite crowded, really can't imagine what it's like during weekends. It's definitely a must-visit, but I must warm – this place is old. As in when going there you kind of get some old horror movie vibes. While being there I was constantly thinking about the movie A Cure for Wellness. It's a movie where a young man goes after his company's CEO who has gone to some kind of spa in Swiss Alps to get better. The "wellness centre" looked super retro spa and actually, they were sucking the life out of the elderly for a youth elixir. A weird movie but I liked it.
Anyway, we didn't stay for very long since it started to rain and we didn't fancy the indoor pools. Also, you had to have a swimming cap on to swim in the large pool – what's up with that?!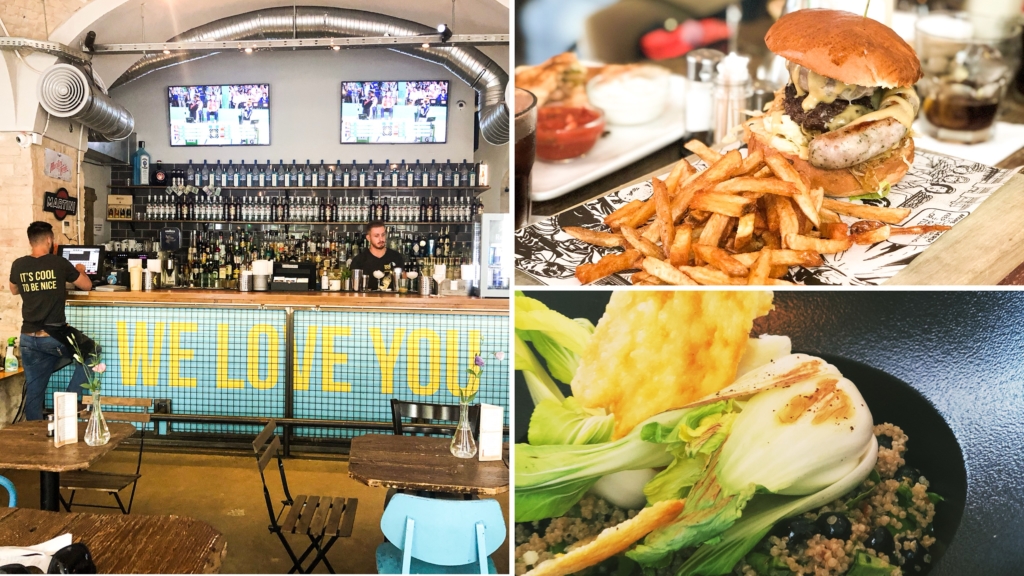 BB'z Bar & Grill – ah. We went there straight after the spa. It's a chill big place suitable for both food and drinks. The service is good (cute boys) and the food was delicious! When you're in town I would highly recommend checking out that place!
Why this trip was almost cancelled
Ok, so we made to the part why couldn't really enjoy the trip quite as much as I would have wanted to and why it was almost cancelled. the night before our flight to Budapest we had dinner in a popular restaurant in Tallinn. I had octopus and quite soon after eating it, I didn't feel that good. In fact, the feeling of being unwell escalated into a pretty nasty food poisoning. So yes, I had THE WORST kind of food poisoning all night long.  I think I managed to sleep an hour total and had to pack in the morning. I was so weak my boyfriend was pretty much certain I'm not able to get on the plane. Honestly, I was so weak I barely could pack my stuff. I got dizzy from just standing up for 10 seconds. And then, some kind of strength came out of nowhere. In my head, I saw myself at the airport and getting on the plane and you know that everything you can imagine is real. I just knew I'm not going to let this stupid food poisoning ruin my plans. I managed to get my stuff packed and we went on the trip.
Of course, I was so weak and my inner systems were in such shock I could barely eat anything and while others were out having wine I was in our hotel room sleeping… Oh well. I just laughed at it and told my boyfriend he's actually the lucky one on this trip – I was a cheap date.
Not going to say the name of this place I got my food poisoning from, but there aren't that many of them that have a mesmerising view of the sea and offer octopus. 🙂
Here are a few more pictures from Budapest!
Until next time,
K.