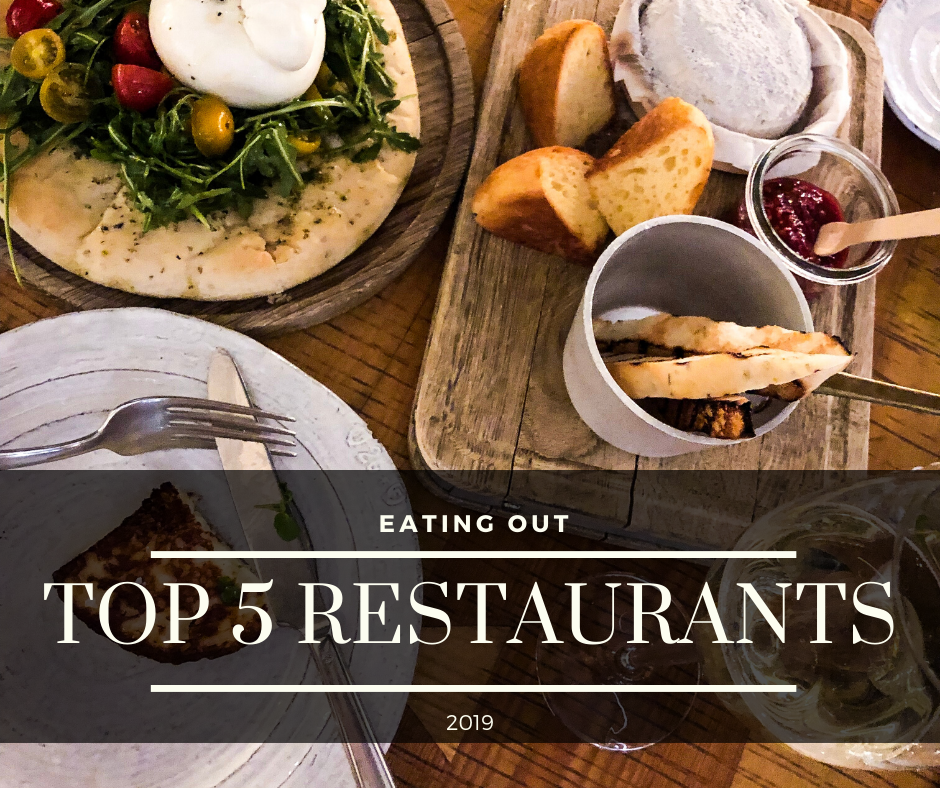 TOP 5 restaurants in Tallinn spring 2019
Tallinn is a wonderful city to live in and even more wonderful if you enjoy eating out. With its wide variety of restaurants, Tallinn certainly knows how to surprise tastebuds with all kinds of cuisines. From the very top level Scandinavian kitchen to unforgettable street food experiences – there is something for everyone. Since I like to experiment with food and to boost my creativity, I find it rather important to test new restaurants or new menus from old favourites.  Here is a list of my five most favourite restaurants at this moment.
5. Rae Meierei Restaurant – It's about the cheese!
Rae Meierei is an interesting place meaning you have to go through another restaurant and go up the stairs to get there, which might make you suspicious at first, but if you enter you will be amazed by the cool industrial interior with lots of different seating options, from more private corners to overlooking what's going on in the kitchen.
The menu is more Scandinavian style with the emphasis on local produces and cheese, that they make themselves. Doesn't matter if you're a vegetarian or a carnivore you will find something there. Though I do have to mention, they used to have a bit bigger menu and more options than at the moment. But if you have a weakness for cheese, then it's a must. Especially their halloumi… it's super fresh and caramelized just perfectly to leave you wanting more and more.
Bonus! They have two black and white goats in the restaurant and you can take pictures with them or just admire them walking in the restaurant during evening hours.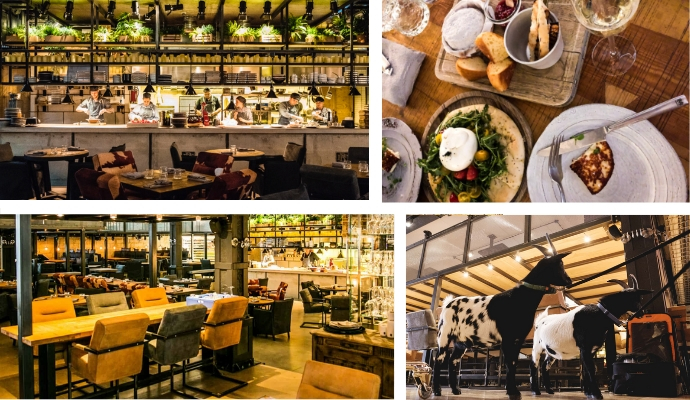 4. PULL – True meat heaven.
Located in Rotremann square PULL Restaurant is truly a must visit for every self-respecting meat eater. PULL's menu consists of best quality steaks, meats cooked on low temperatures, delicious grill dishes together with super-healthy salads. Sounds perfect or what?! Also, from my experiences, they have the best ceviche in town (made from octopus, sea bass, king prawns, avocado, mango, chilli, lime). So not only are they excellent with meats, but with fresh seafood too.
The interior is modern with leather details and quite a masculine look. But it feels very comfortable and the atmosphere is so warm and welcoming. Not too many seats so definitely need to book in advance, if thinking about having dinner there.
Bonus! Restaurant Pull got awarded with fine level by WHITE GUIDE NORDIC 2019 – that shows great quality!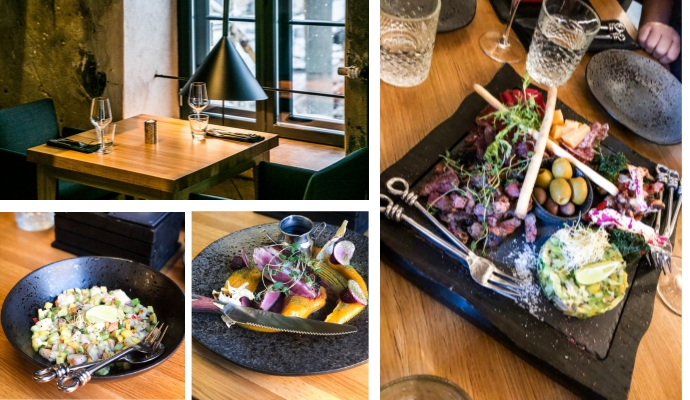 3. Kaks Kokka – Casual dining at it's finest.
Kaks Kokka is a modern casual dining restaurant where the best international cuisine meets with years of practice, which has been fine-tuned in some of the best European Michelin star restaurants, and the best quality products from here and elsewhere. The menu has a very wide variety from Slavic dishes like elk boeuf to Mediterranean mussels to Indian chickpea curry – they have something for everyone. Which isn't a bad thing at all considering it's a casual dining restaurant.
The atmosphere at Kaks Kokka is always warm, welcoming and helpful. For example, my boyfriend wanted to have a casual dinner for his birthday last year. So he booked a dinner for four and arranged everything on his own. I wanted to make the evening a little more special for him. Since I didn't really want anyone ruining the surprise, I contacted the restaurant before the dinner and asked them if they could surprise my boyfriend by putting a candle on a dessert or something similar. During the dinner, I didn't ask once anything and after our mains, with the desserts, a special composition with a huge sparkling candle was brought to our table and everyone (especially my boyfriend) where SO AMAZED! I loved it, it truly made his night.
Kaks Kokka is very much a recommend for midweek eating out, casual catch up with a friend or more laid back date. But you most definitely need to book in advance, since good places like this tend to be full most of the time.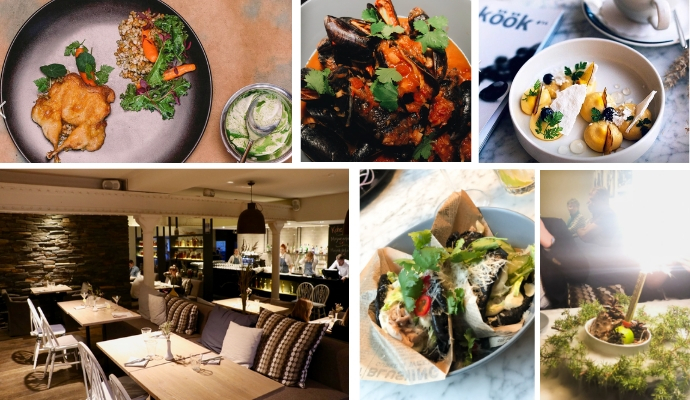 2. Mon Repos – A little getaway oasis.
Mon Repos villa is a place with its own story. In 1870's it was built as a summer villa by the gorgeous park Kadriorg. Owner Sadovski´s vision was to create a high-level restaurant with cabaret, dining hall and casino. So Restaurant Mon Repos was opened at the beginning of 1921 and was immediately very popular amongst the entire elite of Tallinn with its intimate ambience.
These days Restaurant Mon Repos captivates with its magical menu inspired by the Golden Era. Fresh oysters, bird liver pâté and quail – these are just some of the classics you may find there. One of my absolute favourites is the dessert called "Pineapple in Champagne" which recipe originates from 1915 and consists of caramelized pineapple, almond pound cake, sabayon and a glass of champagne – truly a perfection. Sometimes I go there just for the dessert because I'm pretty certain it's just my favourite dessert of all time.
If you visit Mon Repos during warmer time then they have the most gorgeous garden you can sit and enjoy – truly feels like a little vacation. It's gorgeous.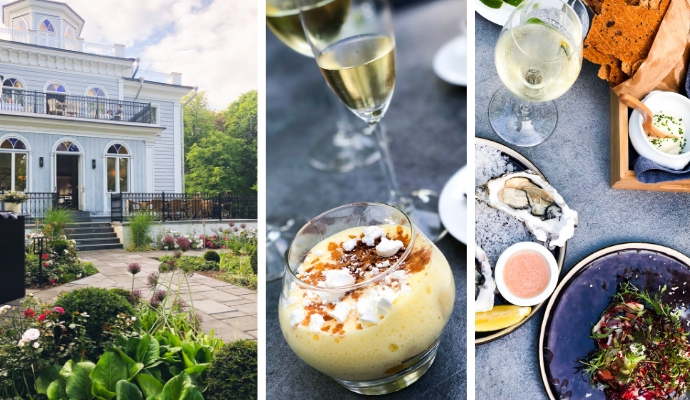 1. Horisont Restaurant – Everything on point!
Located on the 30th floor of Swissotel Horisont offers a truly magnificent view over the best parts of Tallinn. From the very second you step out from the elevator you will be greeted and seated with the best care. The menu is very modern fine dining offering something for the vegetarians and something for non-vegetarians. Surprises from the chef are offered before appetizers and main. The care and the expertize you're given throughout your stay at the restaurant leaves you feeling so good and special you just keep wanting to go back. But since Horisont is a very high-end fine dining restaurant I prefer to leave it for the very special rare occasions, so the occasion gets complimented with a simply perfect dinner.
Also, they have a bar next to the restaurant, so you can enjoy your cocktail with the same magnificent view.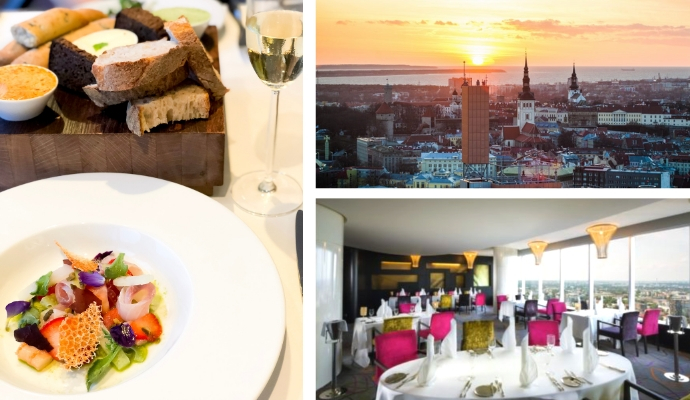 Here it is, my TOP 5 restaurants in Tallinn at this moment. Hope you found this helpful and keep showing up, there will be more posts like this.
K.